EMH keeps your cranes running at peak efficiency by offering a Total Service Program for overhead cranes. As part of EMH's commitment to excellence in the Material handling Industry, our service program continues that commitment. EMH provides service, repairs, parts and inspections which are vital to your company's continued productivity.
Services Include:
Installation
Field Service & Repair
Crane Modernization

Spare Parts
Safety Upgrades
Load Testing

Training
And importantly,
OSHA Inspections
Yearly inspections are required by OSHA. Non-compliance can be extremely costly and difficult to explain should an incident occur.
---
All Service Contract Packages include the following:
OSHA Compliance Inspections
(includes one inspection per year as required)
Special Hourly Rates

Priority Response for Service Contract Holders
Individual Maintenance Tracking folder for Each Crane
One or Two Year Service Contracts Available upon Request
In Northeast Ohio, call EMH Crane Services at (330) 220-8600. See flyer for further description of our capabilities.
Spare Parts Packages for EMH Hoists
EMH Dealers can offer special discounted spare parts packages for standard single and double girder EMH wire rope hoists. The spare parts packages consist of: Hoist Brake Assembly, Wire Rope, and Rope Guide.
Dealers should contact Ann Branham, Spare Parts Manager, or their EMH Regional Sales Manager for more prices and details on this program.
Nationwide, Engineered Material Handling has authorized Service Representatives in 50 cities and 30 states, so you're assured of a crane that will enjoy many years of safe, reliable and economical operation. Our network includes the following locations: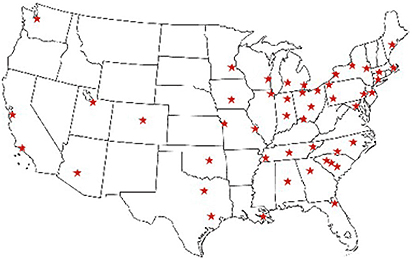 Alabama
BirminghamArizona
PhoenixCalifornia
Los Angeles
San Francisco

Colorado
Denver

Connecticut
Hartford
New Haven

Florida
Orlando

Georgia
Atlanta
Savannah

Illinois
Chicago
Peoria

Indiana
Fort Wayne
IndianapolisIowa
Cedar FallsKansas
Wichita

Kentucky
Lexington

Maine
Eliot
Pittston

Maryland
Baltimore

Massachusetts
Boston

Michigan
Detroit
Grand Rapids

Minnesota
Minneapolis

Missouri
Kansas City

New Jersey
ParsippanyNew York
Buffalo
SyracuseNorth Carolina
Charlotte
Raleigh

North Dakota
Fargo

Ohio
Cincinnati
Cleveland *
Columbus
Dayton
Toledo

Oklahoma
Tulsa

Oregon
PortlandPennsylvania
Erie
Philadelphia
Pittsburgh
YorkSouth Carolina
Columbia
Greenville

Tennessee
Knoxville
Memphis
Nashville

Texas
Dallas
Houston

Utah
Salt Lake City

Virginia
PetersburgWashington
SeattleWisconsin
Appleton