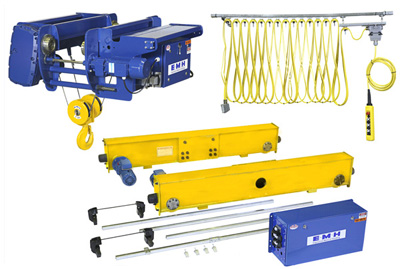 EMH makes it easy to design, manufacture, and install your crane! The System 2000 Kit includes all the top quality components for our ZLW Double Girder Top Running Cranes, DLVM Single Girder Under Running Cranes, ELV Single Girder Top Running Cranes and EDL Single Girder Low Headroom Under Running Cranes.Each Crane Kit includes:
Wire Rope Hoist with 20 feet of lift and a lifting speed of 16/2.6 FPM with trolley speed at 65 FPM VFD.
Optional lifts and speeds available.
End Trucks with a travel speed of 120 FPM (VFD) complete with mounting plates, bolts and bumpers.
(Single and two-speed drives also available.)
Trolley Tow Arms with pipe clamps to be cut to suit by builder and bolted or welded to the trolley.
Complete trolley and sliding push button Festoon System with all required mounting hardware. Cables are pre-wired to quick disconnect plugs. Festoon trolleys are already attached to cables.
Bridge Conductor Cables pre-wired to Quick Disconnect Plugs.
Bridge Control Panel with lockable fused mainline disconnect mainline fuse, mechanical and electrical interlocking contactors and motor protection. Power and control connections are pre-wired through terminal strips to quick disconnect plugs. Panel is mounted in a NEMA-12 enclosure.
Note: Components are based on 460-3-60 power supply. For other voltages, please contact EMH.
Trolley End Stops
Detailed Engineering for bridge construction and crane assembly, including two sets of the maintenance manual.
Special Kits available upon request.
System 2000 Kits Specifically Designed for Each of Our Crane Series:
Click the crane series for specs and pricing information.