Selecting the Right Crane Hoist
When designing your overhead crane to meet your specific application requirements, one of the most critical decisions you face is in selecting the proper hoist. You will want to find a cost effective solution, but this is not an area to cut corners as the crane hoist/wire rope hoist does the primary work of lifting the load.  The crane hoist/wire rope hoist is often the most critical part of an overhead crane.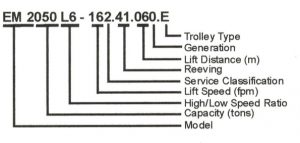 But picking the right crane hoist or wire rope hoist is not an easy process.  Just looking at one manufacturer – us (EMH) – we have hundreds of models of wire rope hoists with varying ratings for a number of wire rope hoist specifications. And when you are looking at the models of wire rope hoists, it could make your head explode as they are long and complex.  Here is what the wire rope hoists codes mean.
Capacity, lift distance, and lift speed are apparent even to the novice wire rope hoist buyer.  Other specifications for a wire rope hoist are a bit more complex, including…
Trolley Type
EMH offers three primary crane hoist/wire rope hoist trolley configurations for overhead cranes and monorails that have a capacity of up to 150 tons.
The "E", or monorail trolley type, is used for monorail and single girder cranes up to 10 tons capacity.
The "D" and "Z" hoist trolleys are used for top running double girder industrial cranes up to 50 tons capacity.
The "H" type trolleys are designed for special applications requiring CMAA Class "D" and "E" service. EMH offers these trolleys in capacities up to 300 tons.
Typically the higher the model number, the larger, more durable, and more costly the wire rope hoist/crane hoist and its components are.
Trolley Speed
"E," "D" and "Z" trolleys have variable frequency trolley drives. All wire rope hoist units have a 6:1 speed ratio while the trolley drives have a 4:1 speed ratio.  "H" type hoist trolleys are offered with variable frequency drives on all motions.
Wire Rope Hoist Hoist Duty Service Classification
There are many factors effecting the selection of the hoist unit for a given application. These factors not only determine the life of mechanical components, but also influence the expected life of electro-mechanical components.